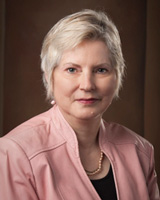 Dr. Vivian R. Ramsden
RN, BSN, MS, PhD, MCFP (Hon.)

Professor

Dr. Vivian R. Ramsden, a Registered Nurse, is Professor & Director of the Research Division, Department of Academic Family Medicine, College of Medicine, University of Saskatchewan. Her background spans both critical care in acute care settings and primary health care in urban, rural, First Nations and international communities. Dr. Ramsden is a passionate advocate for participatory health research; thus, her research interests are in: participatory health research and evaluation; primary health care; mixed methods; and, prevention & management of chronic diseases.