The Correctional Service of Canada (CSC) is the federal government agency responsible for administering sentences of a term of two years or more, as imposed by the courts. CSC is responsible for managing institutions of various security levels and supervising offenders under conditional release in the community.
Learn more at: www.csc-scc.gc.ca/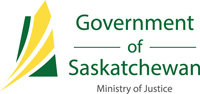 The Ministry of Justice provides a fair justice system that upholds the law and protects the rights of all Saskatchewan individuals; promotes safe and secure communities; and provides legal and justice policy advice to government.
Corrections and Policing within the Ministry of Justice is responsible for leading community safety through innovative approaches to the prevention, intervention, and suppression of crime and victimization.
The Ministry leads societal change by collaborating with human services Ministries and agencies using a nationally recognized approach called Building Partnerships to Reduce Crime.
Learn more at: www.justice.gov.sk.ca/CP